In the snowy kingdom of Erkenwald, whales glide between icebergs, wolves hunt on the tundra and polar bears roam the glaciers. But the people of this land aren't so easy to find – because Erkenwald is ruled by an evil Ice Queen and the tribes must stay hidden or risk becoming her prisoners at Winterfang Palace.
Join Eska, a girl who breaks free from a cursed music box, and Flint, a boy whose inventions could change the fate of Erkenwald forever, as they journey to the Never Cliffs and beyond in search of an ancient, almost forgotten, song with the power to force the Ice Queen back.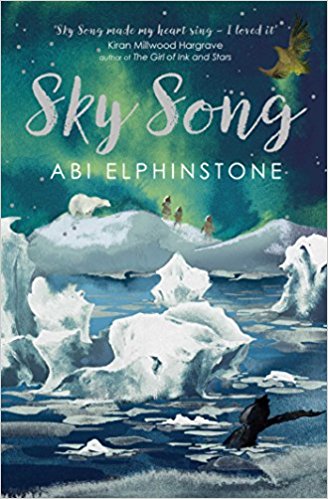 As we are currently in the season of days with cold noses and nights of warm blankets, it seemed like the right time to delve into this icy tale and my first foray into the storytelling of Abi Elphinstone.
Sky Song is a fast-paced adventure set in the icy tundra, snowy mountains and deep forests of Erkenwald. Abi does a beautiful job of making you feel part of the story – you feel the wind catch at your breath, the snow muffle your steps and sense the danger around every corner as you travel with Eska and Flint on their quest to rescue the tribes from the power of the Ice Queen.
Abi clearly has a deep love and respect for nature and I particularly loved the animals and how their personalities shine through – always hungry, curious Pebble and strong, protective Balapan. The importance of the wild, and working in harmony, is a strong undercurrent to the story and adds a lovely layer to this story of friendship and belonging. The animals have just as much a place and role to play in the story as their humans.
The heart of the story is about belonging – we see that it is the differences which bring us together and friendships become stronger when you each bring your own unique strengths and skills together. It is also a story of hope – even at the bleakest moments, Eska keeps fighting for what she believes in and is determined to keep finding a way through. It is what makes you follow her and believe in her – her strength carries the story and she is a wonderful heroine.
One of my all-time favourite books is Philip Pullman's 'Northern Lights' – Abi Elphinstone

I think you can see the influence of Pullman in Abi's writing – the Erkenbears, the icy landscape and the fierce heroine – but the voice is her own and the story is very much a new one, yet it has the feeling of a classic at the same time. It is one I shall be recommending for years to come – a go-to read for those looking for magic, adventure and to discover new friends.
Perfect for 9yrs+
Buy Your Copy Here >> https://amzn.to/2GY3ml6 
Happy Reading!