Cupboard Top Fives: Shakespeare
Shakespeare is a fantastic study topic and can take you down many different paths. It is not just about studying the plays, you can explore the wider history of the period and spark some great project work.
Just a few of the places your learning can take you –
Theatre and the Stage
Poetry and Rhythm
Acting and Performing
Costume
Language
Life in Elizabethan England
Shakespeare's Biography
London
To springboard your discoveries I have put together a Top Five list of my favourite books on the Bard! These give a great base for studying the plays and are perfect for children of all ages.
Shakespeare Stories for Children – Andrew Matthews and Tony Ross
This is a fabulous series, with each play given its own book. An excellent introduction, cleverly abridged and with accessible language to give children (or adults!) an overview of the story.

'Mr. William Shakespeare's Plays' – Marcia Williams
Seven plays brilliantly retold in comic strip! Perfect for little ones and big kids alike, these simple narratives and lively illustrations are a great way of getting the essence of the story without being overwhelmed.
This is followed by 'Bravo, Mr. William Shakespeare!', a collection of seven more plays! Hurray!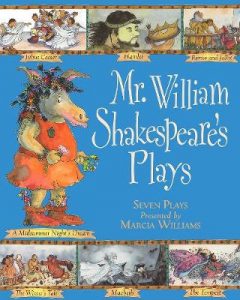 'What's So Special About Shakespeare?' – Michael Rosen
Full of facts and information about Shakespeare, this is perfect to dip into and answer those burning questions!
There is a Youtube video by Mr. Rosen to accompany the book that is also worth a watch! https://www.youtube.com/watch?v=OyAkpZHnDpI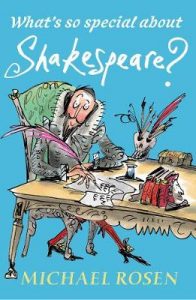 Shakespeare – DK Eyewitness
A fun and engaging reference book full of facts, timelines and helpful illustrations. Great for exploring the history and background of Shakespeare and the Elizabethan theatre.
The Orchard Book of Classic Shakespeare Verse – Gina Pollinger and Emma Chichester Clark
Don't forget the poetry! Shakespeare is best known for his wonderful plays but his verse and sonnets are just as worthy of reading. This edition has been careful selected to be suitable for all ages and is full of gorgeous illustrations.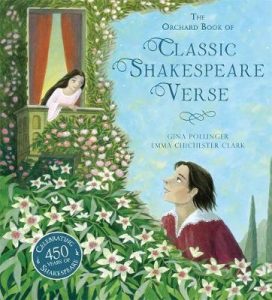 At first Shakespeare can seem like an intimidating topic, but with these books and the many online resources available such as the RSC and BBC websites, you will find there is so much to discover and enjoy as you bring the stories to life.
Happy Reading!